Meet the teachers:
Aaron Cooney (PreK-K Lead Teacher)
Aaron graduated from Earlham College in 2012 with a Bachelor's Degree in Psychology. During Aaron's time at Earlham he became deeply involved with Girls Inc. of Wayne County, and worked in their after school and summer programs for nearly five years. Aaron also took part in a brief internship with the Children's Crisis Treatment Center (CcTC) in Philadelphia during his studies at Earlham College. In 2014 Aaron went back to school to earn his teaching certification in elementary education with Indiana Wesleyan. After working under the mentorship of Marianne Cope, as the RFS PreK-K Assistant teacher for three years, Aaron is excited to be continuing his teaching career with the Richmond Friends School as he transitions into his new role as the lead teacher.
Elise Estadilla (PreK-K Assistant Teacher)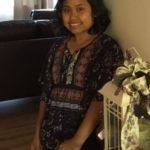 Elise graduated from Indiana University East in 2015 with a Bachelor of Science in Psychology. Additionally, she completed 51 credit hours in Early Childhood Education at Ivy Tech Community College in 2009-2011. Elise has been a case manager/social worker for two years working for families and troubled children. It has always been her goal to work with children, as she believes every child has the right to be loved, valued, and respected.