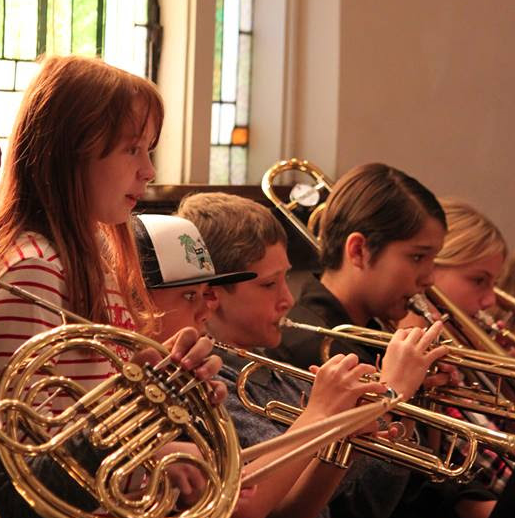 Music, Spanish & Art
RFS students benefit from Spanish, music, and art instruction from the very beginning!  Each class (including Trueblood Preschool) has Spanish instruction each week from teacher Rae Hunter who incorporates music, theater and art into her lessons.  Activities range from traditional language education to lessons in culture and traditions.
Additionally, each class enjoys time with music teacher Sandy Yount, and if interested, students can participate in the middle school band.
RFS encourages creativity and expression, and therefore, art is a popular school subject!  Each teacher helps students explore their creative side while teaching them about art history, technique, and theory.  Projects are often tied to study happening within other subjects in the classroom.
Matthew Socey (Music)
Matthew Socey is a familiar face around the RFS campus. His teaching experience ranges from pre-school (Meridian Academy of the Arts) to the college level (Ivy Tech Indianapolis). He and his wife Lynne (a department chair at Earlham College) co-directed the summer theatre camp Barn RATS for ten summers at Mud Creek Players.  When not on campus, Matthew can be heard on WFYI 90.1 FM and wfyi.org in Indianapolis. He's also appeared on Stage at the Richmond Shakespeare Festival, Richmond Civic Theatre (where's he also directed) and Earlham College.
Rae Hunter (Spanish)
Rae Hunter is a valuable member of the Richmond Friends community. She has taught Middle School, been a substitute, created an All School Theater, and stepped in seamlessly last year when we needed someone to teach Spanish starting in January. She has worked with Quaker Youth and been involved with the Richmond Shakespeare Festival.
Blair Walker (Music)
Blair is currently pursuing a Masters of Divinity at Earlham School of Religion, after falling in love with Quakerism. Before coming to seminary, Blair split his time between studying Anthropology (at University of Michigan – Flint) and touring in various folk/punk bands, as a singer-song-writer and stand-up comedian. Blair has worked at a variety of summer camps and after school programs as well as Habitat for Humanity and the Veterans Association. He is excited to share his love of music and performing with students and to be a part of a community that is putting Quaker values into action. Blair is a proud member of Ann Arbor Friends Meeting.