News:
August 2017
School starts on Wednesday, August 9th! Can you believe it? While most of our classrooms are full, we still have space in our 1st/2nd, 3rd/4th and Middle School classrooms. Call 765-966-5767 for more info!
July 5, 2017: Want to get moving on gathering supplies for the start of school? Here is the supply list for the whole school!
2017-2018 Trueblood Preschool to Middle School Supply List
April 7, 2017: Trueblood Preschool Camps taking registrations for Summer 2017! Don't miss out on these amazing opportunities! Call 765-983-1445 or email trueblood@richmondfriendsschool.org
March 1, 2017: READATHON 2017 was a big success! A big thanks to everyone who read, sponsored and supported Richmond Friends School this year. A special thank you to our three corporate sponsors:

West End Bank
First Bank
Wetzel's Auto
February 9, 2017: Open House
The Richmond Friends School will hold an Open House Thursday February 9 from 6-8 PM at both the Pre-K through 8th grade location, 607 West Main Street in Richmond, and Trueblood Preschool, located on the Earlham campus. The Open House is for families interested in enrolling students for the 2017-2018 school year for preschool through eighth grades.
This is an excellent opportunity to tour both locations, meet faculty, staff and teachers and learn more about the school, which was founded in 1971. The Friends School offers multi age classrooms with low student to teacher ratios. Smores will also be served! You can find more information on the Richmond Friends School by visiting their website at www.richmondfriendsschool.org or calling (765) 966-5767.
February 6, 2017: Join us for a tasty fundraiser at Chipotle in Richmond. RFS will be having Chipotle Night from 5-8PM.  RFS will get 50% of the proceeds and you will get a delicious meal!
January 17, 2017: New Volunteers On the Block How Kate Hogg's class is shaking up Cope  Our Middle School students are featured in Cope Environmental Center's January newsletter!
December 8, 2016: So you want to shop for the holidays AND support Richmond Friends School? If you click on GIVING ASSISTANT, and shop online at over 1800 stores, RFS will receive a percentage of the sales!
December 7, 2016: Are looking for a quality preschool program that has
amazing teachers and awesome educational activities? Trueblood Preschool is holding an Open House on Friday December 16 from 9am – 5PM. Call 765-983-1445 or click on the logo for more info!
December 1, 2016:  The Wayne County Foundation Challenge Match has once again ignited the imagination and wallets

of our donors.  The $5,000 pledged by the Foundation was then doubled by our board.  This $10,000 matching opportunity clearly motivated people to give.
I am pleased to share that Richmond Friends School received $37,055 between November 7-14th.   I know of one new donor who expressed interest in supporting the school, but wanted to wait for this matching opportunity to give.  The incentive and timing of this match was critical for us – taking it from donor interest and turning it into valuable operating dollars in the bank.
Thank you Wayne County Foundation, the RFS Board and of course, thank you to our generous donors!

November 30, 2016: TRUEBLOOD PRESCHOOL announces summer camps for Summer 2017! We are really exciting about what's happening for next summer. With opportunities like Space Camp, Prehistoric Era, Wheels, Speed and Transportation and a special Mini-Camp for the week of July 4th!
SUMMER CAMP INFO: 2017-trueblood-summer-camp-info
REGISTRATION: 2017-trueblood-day-camp-registration
October 7, 2016 : Join us for a celebration of our 45th Year!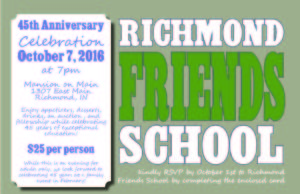 September 18, 2016: SEPTEMBER NEWSLETTER hot off of the press!
August 2, 2016: Read the this awesome article about our new programs: Richmond private schools expanding services
Richmond Friends School Trueblood Preschool

About Us
Richmond Friends School is a Preschool-8th grade independent Quaker school founded in 1971. Our multi-aged classrooms are purposefully designed to have low student to teacher ratios allowing for customized instruction, expectations…
Learn More