Richmond Friends School, like all independent schools, depends upon the generosity of our community to sustain and advance the mission of the school. There are many ways that alumni, parents, grandparents, parents of alumni, and friends can take an active role in fostering the school's mission and ensuring the best possible educational environment for our students and faculty. One important way is by making a gift to either our annual fund or endowed fund. Regardless of the amount of the gift or the form it takes, when you make a donation you are visibly demonstrating your belief in our mission and your desire to support the school, and for that we are truly grateful and appreciative. Gifts to RFS can take many forms. Immediate support helps us meet the needs of the school today while deferred gifts help build the school and its endowment in the future.
The Annual Fund
Every year the Annual Fund provides RFS with the working capital to support the daily functions of the school, from tuition scholarships to faculty salaries to maintenance expenses. Support comes from all constituencies at RFS: alumni, current parents, parents of alumni, faculty and staff, grandparents, friends, and local Meetings. All of these individuals recognize that at RFS, like all independent schools, tuition alone cannot meet the expenses of our operating budget. The Annual Fund touches every aspect of our school and helps us continue to be a place that can be transformative for every child. With your help, we can continue to provide small student-to-teacher ratios; individualized instruction; multi-aged classrooms; rigorous academics enriched by integrated, experiential learning opportunities such as theme-based projects and field trips; and attention to the whole of every individual (mental, emotional, and physical), all grounded in a nurturing atmosphere guided by Quaker principles.
A Gift to the Endowment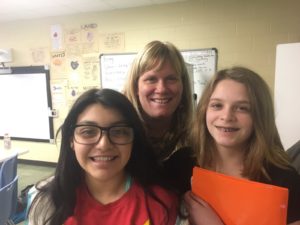 The most powerful safeguard of RFS's long-term wellbeing is its endowment. An endowment is a fund in which the principal and earnings are protected, in perpetuity, except for a small percentage of the investment income that is used to support a stipulated item. We are happy to announce the Nicholson/Smith Endowment Fund that was created as we celebrated the school's 35th Anniversary in our 2006-2007 academic year. This fund is in honor the school's co-founders, Chris Nicholson and Warren Smith. Monies from this fund will be specifically earmarked to provide scholarship funds for those who need additional assistance beyond the financial aid package awarded. We are anxious to grow this endowment so we can continue to provide our unique learning opportunities to all families, regardless of financial constraints.
Gift of Cash
A cash gift is the simplest form of giving. All contributions to Richmond Friends School are tax deductible, and you can claim your deductions over a period of up to six years, for cash as for all charitable gifts.
Appreciated Stock
Appreciated stock makes an excellent gift. You avoid all capital gains taxes and receive an income tax deduction for the full value of the gift. Learn more about appreciated stock gifts!
In-kind Gifts of Materials and Equipment
The material needed for our buildings and the equipment or furnishings that will be used in them can also be given. You are able to claim the fair market value of these gifts as a tax deduction.
A gift through your will can have a significant impact on the school. This can be a specific bequest or a portion of the residual of your estate. A charitable bequest may decrease the amount of tax your estate pays.  Click on the title above to learn all about ways to help the school through a planned gift. You can also download this handy guide to planned giving– there are great options for all stages of life!
PawPaw Circle
Have you heard of our PawPaw Circle?
Pawpaw: Asimina triloba
Also known as the "Hoosier Banana" or "Quaker Delight", the pawpaw is known for its fruit- the largest berry produced by any tree native to the United States. It's the host plant of the zebra swallowtail butterfly and
indigenous to 26 different states in the US.
At Richmond Friends School, the Pawpaw Circle represents a group of
committed community members who want their passion for Quaker
education to benefit the school for years to come.
Interested in learning more?  Call us at 765-966-5767!