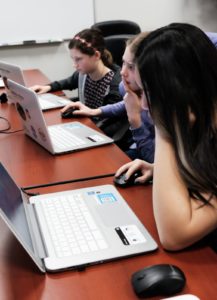 Financial Aid Information: New this year, Richmond Friends School is working with Smart Aid to assist with the financial aid application process.  Please see the link below for your online instructions.  There is a $35 fee per family to apply.  If you have questions or would like to access a school computer in order to upload your documents to their site, please contact our Head of School at headofschool@richmondfriendsschool.org.  The deadline for submitting paperwork is April 18th.
The Richmond Friends School Scholarship Committee offers aid to qualified students on the basis of financial need of the family and the availability of funds. Scholarship decisions are made following the admissions process. Applying for financial aid does not in any way affect an applicant's selection. Richmond Friends School seeks students from every race, creed, nationality, and social or economic background.
Scholarship awards are funded by gifts from private individuals and Friends Meetings. These funds are limited. The Richmond Friends School board and staff work hard at increasing the amount of incoming scholarship funds every year. A Richmond Friends School education is an investment in your child's future. You will undoubtedly have to make some sacrifices. There are options available to help you meet school expenses, such as a monthly payment plan that we offer and long-term educational loans through your local bank. Feel free to talk with our Head of School about your options.
Submission of the Scholarship Application by the April 18 deadline does not guarantee that an award will be granted by the Scholarship Committee.
Click on the link to access the Smart Aid application. RFS code is 91149.