"At Trueblood, learning how to be a good friend and learner is practiced all the time. Using nature and playing as our guide, our children learn through experiences."
Roxanne Steele, Lead Preschool Teacher
Thank you for your interest in Trueblood Preschool. Trueblood is located on Earlham College's campus and is operated by Richmond Friends School. We look forward to showing you how children grow and succeed with an educational start at Trueblood!
Hours: 7:45am – 5:30pm
Trueblood Summer Camps:
We are READY for long summer days and FUN at Trueblood Preschool!  Do you have plans for your child?  Check out our camp line-up, and then reserve your spot for fun-filled weeks about dinosaurs, space, cooking, and more!  SUMMER CAMP REGISTRATION
Please note: Arts & Crafts Camp (June 21-25) is now FULL! Please call 765-966-5767 to be added to the waiting list!
Meet the teachers:
Roxanne Steele (Lead Teacher)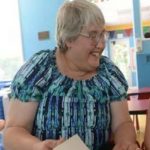 Roxanne Steele, Lead Teacher at Trueblood Preschool, is excited to take the lead during this first year of the Friends School and Trueblood merger. Roxanne has been active with the Friends School in the past with her son, and has worked in preschool and special education settings in the past. Bringing the philosophy of the whole child and multi-sensory learning together is a thrilling task to take on at Trueblood Preschool. Roxanne lives in Richmond with her husband, Brian and their children Mariah, Sara and Nathan and memory of daughter Rachel.