Richmond Friends School was extremely pleased to introduce 7th and 8th grades to our academic offerings in 2016. This exciting classroom addition, guided by teachers Kate Hogg and Nicole Blair, allows older students to take advantage of RFS' tradition of high quality experiential learning. Take a moment to learn about our approach to middle school, peek at their weekly schedule, or even learn about ways the students are evaluated. If you feel that this environment would be beneficial for your child, please contact Marcie Roberts, Head of School, at 765-966-5767 or headofschool@richmondfriendsschool.org.
Meet the teachers:
Kate Hogg (Seventh to Eighth Grades)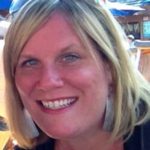 Kate received both her Bachelor of Arts in English (2000) and her teaching certificate (2001) from Indiana University East. She completed her M.Ed. at Earlham College (2012). Kate's fourteen years of teaching freshmen at Richmond High School allowed her the opportunity to form many close relationships with students and faculty. Inspired by renowned teacher Erin Gruwell and the Freedom Writers, Kate and her ninth grade team created lessons for the English classroom that centered around tolerance, self-reliance, and service to the community. A multi-genre writing project over tolerance secured Kate and her ninth grade team the honor of presenting at the NCTE conference in New York City. Last summer, Kate and a colleague journeyed with twelve students to Costa Rica to take part in adventure, personal growth, and humanitarian work. Kate strives to make community service and experiential learning the foundation of her classroom. When she is not researching lessons and brainstorming travel opportunities, Kate loves to spend time with friends and family, especially her two sons, Darius and Isaiah.
Nicole Blair (Seventh to Eighth Grades)
Nicole received her Bachelor's Degree in Aerospace Engineering from MIT and a Master's Degree in Biology from the University of Notre Dame. She has taught high school chemistry and biology in the Washington DC area as well as Ecological Biology at Earlham College. She has co-led, with her husband Peter, two Earlham College semester abroad programs in Environmental Studies in New Zealand. Nicole is an avid photographer, enjoys gardening (when it is not too hot!), and loves camping with her family and friends. Her two daughters, Savanna and Maggie, attend RFS.
Middle School Education Ethic
The RFS 7th and 8th grade middle school program strives to inspire lifelong leaders and learners grounded in the Quaker principles of simplicity, peace, integrity, community, equality, and stewardship. Faculty and staff facilitate the exploration of these values as we help all students develop their own voice and academic pursuits. Our preschool – 8th grade model allows middle school students to be both challenged and rewarded through their natural interactions with younger students, making them integral ambassadors of our school.
Hands-on learning and individualized instruction create an environment that inspires students to make real world connections. Our project-based classroom calls on kids to think critically and solve relevant problems. Teachers work hard to provide the foundational academic and social skills to prepare our students for high school and beyond.
Critical Thinking: 
We believe that deeper learning comes from a focus on critical thinking, including analysis, synthesis and evaluation of information. We teach students to evaluate current and relevant ideas through questioning, citing evidence from various sources, and applying their understanding through writing, class discussions and group projects.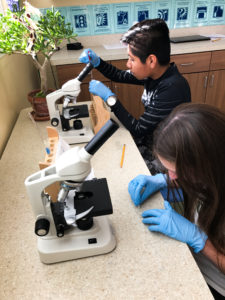 Pictured above: While studying population dynamics in science class, students design their own experiments to determine factors that limit the size of a population of yeast.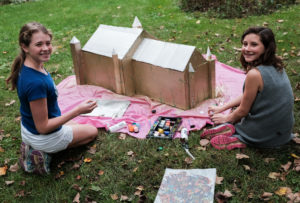 Pictured above: Students in geometry class calculate volume and surface area of three dimensional shapes as they build a miniature model to scale based on a castle of their choice.
Experiential & Interdisciplinary Units:
Essential to our curriculum is the belief that learning is an expedition and should not be confined by subject or by walls. Project-based and experiential learning occur in every class, and we rely on our community resources to aid in teaching our students: guest speakers, local organizations, and universities. Twice a year, our students take part in weeklong enrichments, one focused on the humanities and the other on STEM. During this time, they are introduced to an in-depth study in these fields. Our end of the year class trip and frequent field trips throughout the year are used to enhance learning.

Pictured above: We are always ready to embrace any learning opportunity. Our spontaneous trip to Illinois to view the total eclipse was an example of this.

Pictured above: During Humanities Enrichment, a weeklong partnership with the Richmond Shakespeare Group taught kids important dramatic concepts.

Pictured above: Students were innovative in creating games during our Scratch Computer Coding STEM Enrichment Week

Pictured above: Each year, we take a culminating spring trip to bring classroom learning to life. This trip always has a service learning component, alternating the focus between humanities and science

Pictured above: On a fieldtrip to several locations in our Whitewater River watershed, a local expert taught our students about land use issues that affect our water quality.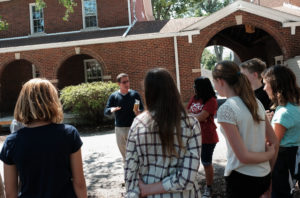 Pictured above: "A Journey to Finding Place" is an example of a class theme that we use to help students draw meaningful connections across disciplines.
Project-Based Learning:
It all starts by asking, "How does flipping the light switch make a light bulb turn on?" A simple guiding question leads to a multi-month long exploration into energy transfers and conservation, alternative sources of energy, and the construction of some creative Rube Goldberg machines.  This student centered project-based learning is at the heart of what we consider to be good teaching and learning at RFS because it calls on students to work collaboratively and think critically. Our goal is to immerse students in experiences that are both memorable and will help them see the big picture of what they are learning.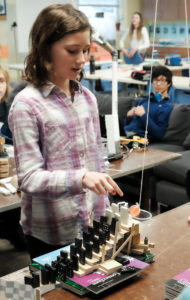 Pictured above: Students explore the construction of some creative Rube Goldberg machines to understand energy transfer.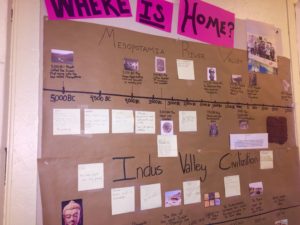 Pictured above: Early River Civilizations come to life with pictorial timelines showcasing the growth and impact of Early River Civilizations like the Mesopotamian River Civilization.
Community Involvement:
We focus on building community in three ways. First, we want our students to understand that a cohesive and trusting classroom begins with each of them being an active and mindful participant. Next, we seek opportunities to collaborate with the younger classes at RFS by sharing our learning and by building community with social events. Additionally, we embrace any chance to partner with local organizations or individuals including guest speakers, service learning opportunities and programming. Take a moment to watch this video made by our middle schools about their service learning projects: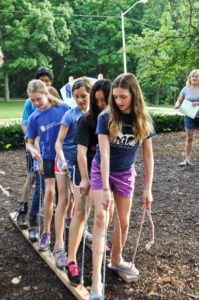 Pictured above: The skis are a perfect teambuilding activity for kids to see the Habits of Mind in action.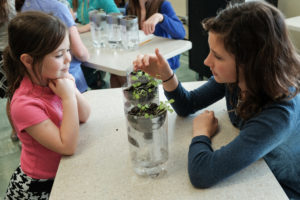 Pictured above: Middle school students teach the 1st and 2nd graders about experimental design and connections between land and water.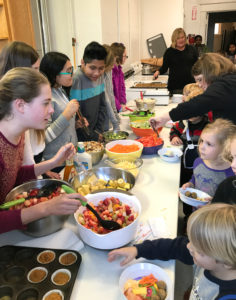 Pictured above: The annual RFS Thanksgiving Feast gives our middle school students the chance to serve their community.

Pictured above: Students regularly volunteer as stewards of Mary Scott Park by planting, weeding, painting and picking up debris.