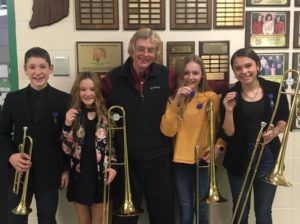 Music, Spanish & Art
RFS students benefit from Spanish, music, and art instruction from the very beginning!  Each class (including Trueblood Preschool) has Spanish instruction each week from teacher Rae Hunter who.  Activities range from traditional language education to lessons in culture and traditions.
Additionally, each class enjoys time with music teacher Jim McKinney, and if interested, students can participate in the middle school band.  Jim also gives lessons after school making advanced music instruction easy and convenient for students.
RFS encourages creativity and expression, and therefore, art is a popular school subject!  Teacher April Crowe helps students explore their creative side while teaching them about art history, technique, and theory.  Projects are often tied to study happening within other subjects in the classroom.
Jim McKinney (Middle School Band and Music)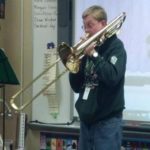 Jim holds a B. A. degree in Music from the University of Kentucky, a B. S. degree in Elementary Education from Indiana University East, and an M. M degree in Musicology from Indiana University. He has experience as a classroom teacher and an administrator in special education. During the 2013-14 school year, he volunteered as brass coach for instrumental students at Friends School. He has played the trombone for 25 years. He frequently performs throughout the Richmond area with both his jazz combo and brass quintet. He is a regular performer in the pit orchestras at Richmond Civic Theatre. Additionally, he gives private lessons to students, is a member of his church's praise band, and works as a brass technician during the summers at the Eaton, Ohio, High School band camp. He and his wife, Jodi, live in Richmond and have two children, Jared and Jill. He is thrilled to have the opportunity to teach music at Friends School!
April Crowe (Middle School & 1st/2nd Grade Art)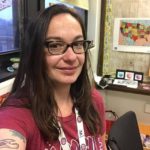 A Richmond, IN native, April grew up on the west side before graduating from Earlham College with a Bachelor's Degree in Fine Art Photography with an Education minor. Prior to returning to Richmond, April lived in Indianapolis for twelve years save a one-year stint living abroad in Malawi, Africa managing a backpacker's hostel and volunteering at the Mtende Orphan Day Care and Home Craft Center. Since returning to Richmond, April has worked with the Richmond Art Museum as the Exhibit Leader for Art Is!, instructing their children's tuition-free evening classes, and co-instructing their Young Artist Camp summer courses. April enjoys collecting Legos and Hot Wheels, Star Wars, challenging children to heated Mario Kart bouts, billiards, and hotdogs.
Rae Hunter (Spanish)
Rae Hunter is a valuable member of the Richmond Friends community. She has taught Middle School, been a substitute, created an All School Theater, and stepped in seamlessly last year when we needed someone to teach Spanish starting in January. She has worked with Quaker Youth and been involved with the Richmond Shakespeare Festival.