Classroom Teachers
Aaron Cooney (PreK-K Lead Teacher)
Aaron graduated from Earlham College in 2012 with a Bachelor's Degree in Psychology.  During Aaron's time at Earlham he became deeply involved with Girls Inc. of Wayne County, and worked in their after school and summer programs for nearly five years. Aaron also took part in a brief internship with the Children's Crisis Treatment Center (CcTC) in Philadelphia during his studies at Earlham College.  In 2014 Aaron went back to school to earn his teaching certification in elementary education with Indiana Wesleyan.  After working under the mentorship of Marianne Cope, as the RFS PreK-K Assistant teacher for three years, Aaron is excited to be continuing his teaching career with the Richmond Friends School as he transitions into his new role as the lead teacher.
Elise Estadilla (PreK-K Assistant Teacher)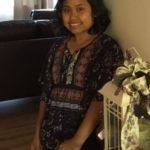 Elise graduated from Indiana University East in 2015 with a Bachelor of Science in Psychology. Additionally, she completed 51 credit hours in Early Childhood Education at Ivy Tech Community College in 2009-2011. Elise has been a case manager/social worker for two years working for families and troubled children. It has always been her goal to work with children, as she believes every child has the right to be loved, valued, and respected.

Laura Sheets (First to Second Grades)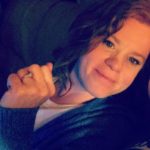 Laura Sheets (1st and 2nd Grade) Laura graduated from Bates College with a Bachelor's Degree in psychology, and from California State University Long Beach with a Master's Degree in Education: Curriculum Development and Instruction. She holds Indiana teaching licenses for grades preschool to 8th grade and special certification as a Language Development Specialist. She taught elementary school in California for eight years before moving to Indiana. Eager to return to the classroom after work in education administration, tutoring reading, and raising her family, Laura joined the RFS faculty in 2008. She takes special joy in helping students with reading, writing, and art. Her classroom has a focus on guiding students to find a balance between honoring their own uniqueness and becoming self-regulating members of their classroom.
 Rachel Carpenter (Third to Fourth Grades)
Rachel has a bachelor's degree in Human Development and Social Relations from Earlham College. She taught math at the Arthur Morgan School and 4th/5th grade at Rainbow Mountain Children's School, both in western North Carolina. After her children were born she moved to Indiana and homeschooled them. When her youngest followed in her siblings' footsteps and headed to the Arthur Morgan School, Rachel got her elementary teacher certification through the Transition to Teaching program at IU East. She also has Orton Gillingham tutor training through the Dyslexia Institute of Indiana. Rachel lives in Modoc with her husband, one cat, four chickens, and her three children when they make it home for a visit. She particularly enjoys teaching math and science.
John Sheets (Fifth to Sixth Grades)
John graduated from Earlham College in 1992 with a Bachelor's Degree in Biology. Deciding his future would be best spent in education, he graduated from Indiana University East in 1997 with a BS Degree and Certification in elementary education. That same year he received the Student Teacher of the Year award while completing his student teaching at the multi-aged, portfolio based Discovery School, a choice school in the Richmond Public School System. He has been teaching at Richmond Friends School since the fall of 1997.
Kate Hogg (Seventh to Eighth Grades)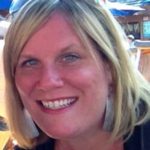 Kate received both her Bachelor of Arts in English (2000) and her teaching certificate (2001) from Indiana University East. She completed her M.Ed. at Earlham College (2012). Kate's fourteen years of teaching freshmen at Richmond High School allowed her the opportunity to form many close relationships with students and faculty. Inspired by renowned teacher Erin Gruwell and the Freedom Writers, Kate and her ninth grade team created lessons for the English classroom that centered around tolerance, self-reliance, and service to the community. A multi-genre writing project over tolerance secured Kate and her ninth grade team the honor of presenting at the NCTE conference in New York City. Last summer, Kate and a colleague journeyed with twelve students to Costa Rica to take part in adventure, personal growth, and humanitarian work. Kate strives to make community service and experiential learning the foundation of her classroom. When she is not researching lessons and brainstorming travel opportunities, Kate loves to spend time with friends and family, especially her two sons, Darius and Isaiah.
Nicole Blair (Seventh to Eighth Grades)
Nicole received her Bachelor's Degree in Aerospace Engineering from MIT and a Master's Degree in Biology from the University of Notre Dame. She has taught high school chemistry and biology in the Washington DC area as well as Ecological Biology at Earlham College. She has co-led, with her husband Peter, two Earlham College semester abroad programs in Environmental Studies in New Zealand. Nicole is an avid photographer, enjoys gardening (when it is not too hot!), and loves camping with her family and friends. Her two daughters, Savanna and Maggie, attend RFS.
Special Teachers
Jim McKinney (Middle School Band)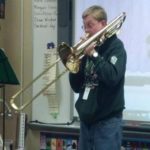 Jim holds a B. A. degree in Music from the University of Kentucky, a B. S. degree in Elementary Education from Indiana University East, and an M. M degree in Musicology from Indiana University. He has experience as a classroom teacher and an administrator in special education. During the 2013-14 school year, he volunteered as brass coach for instrumental students at Friends School. He has played the trombone for 25 years. He frequently performs throughout the Richmond area with both his jazz combo and brass quintet. He is a regular performer in the pit orchestras at Richmond Civic Theatre. Additionally, he gives private lessons to brass students, is a member of his church's praise band, and works as a brass technician during the summers at the Eaton, Ohio, High School band camp. He and his wife, Jodi, live in Richmond and have two children, Jared and Jill. He is thrilled to have the opportunity to teach music at Friends School!
Hanna McMichael (Music)
Hannah McMichael is a graduate of Indiana Wesleyan University with a degree in Music Education. Her focus is on piano, voice, and strings.  She thoroughly enjoyed being able to complete part of her student teaching in New Zealand, helping students with guitar, ukulele, and voice skills.  Hannah and her husband Ralph are originally from the southern Indiana/Louisville area. They love to travel, and have gotten the opportunity to be on several mission trips worldwide.  She is also an essential oil enthusiast, and enjoys teaching classes about natural wellness. Hannah has been a substitute teacher in most school districts in the Indianapolis area, and more recently was the music teacher at Northeastern Elementary School in Fountain City, Indiana, for four years.  Hannah has enjoyed being able to work with the Richmond Community Orchestra String Initiative, in which Richmond Friends School was a part of for the 2016-2017 school year.
April Crowe (Middle School Art)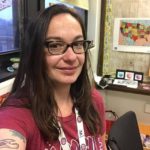 A Richmond, IN native, April grew up on the west side before graduating from Earlham College with a Bachelor's Degree in Fine Art Photography with an Education minor. Prior to returning to Richmond, April lived in Indianapolis for twelve years save a one-year stint living abroad in Malawi, Africa managing a backpacker's hostel and volunteering at the Mtende Orphan Day Care and Home Craft Center. Since returning to Richmond, April has worked with the Richmond Art Museum as the Exhibit Leader for Art Is!, instructing their children's tuition-free evening classes, and co-instructing their Young Artist Camp summer courses. April enjoys collecting Legos and Hot Wheels, Star Wars, challenging children to heated Mario Kart bouts, billiards, and hotdogs.
Rae Hunter (Spanish Teacher, Lunch Assistant and Trueblood Assistant Teacher)
Rae Hunter is a valuable member of the Richmond Friends community. She has taught Middle School, been a substitute, created an All School Theater, and stepped in seamlessly last year when we needed someone to teach Spanish starting in January. She has worked with Quaker Youth and been involved with the Richmond Shakespeare Festival.
Extended Care/Lunch & Assistants
Kay Maurer (Lunch and Extended Care Provider)
Kay has been with Richmond Friends School since 1987 which makes her a beloved figure for students and families, both present and past. She does morning care, lunch, and after care. Kay worked in the dental field and did bookkeeping before joining Richmond Friends School. She and her husband Jeff live next door to the school and have three children and three dogs of wide-ranging sizes.
Lisa Butch (Extended Care)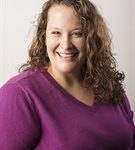 Lisa received her B.S in Environmental Science from Allegheny College and a M.A. from the University of Rhode Island.  She has worked in watershed management, college campus sustainability, and in outdoor education with North Carolina Outward Bound.  In addition to RFS she currently serves as the Education and Outreach Coordinator for the Joseph Moore Museum at Earlham College.  She enjoys the fact that combining her two positions allows her to work with students from Pre-K all the way through college.  In her free time Lisa enjoys yoga, reading, and walking her awesome dog Georgia.
Trueblood Preschool
Roxanne Steele (Lead Teacher)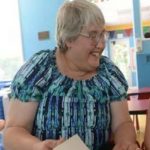 Roxanne Steele, Lead Teacher at Trueblood Preschool, is excited to take the lead during this first year of the Friends School and Trueblood merger.  Roxanne has been active with the Friends School in the past with her son, and has worked in preschool and special education settings in the past.  Bringing the philosophy of the whole child and multi-sensory learning together is a thrilling task to take on at Trueblood Preschool.  Roxanne lives in Richmond with her husband, Brian and their children Mariah, Sara and Nathan and memory of daughter Rachel.
Lisa Burkhardt (Assistant Teacher)
Lisa retired three years ago from a 35 year teaching career during which she managed to teach every subject and all grade levels!  Lisa especially enjoyed the years helping to create a multi-age, interdisciplinary school where she taught in teams.  Since then she has been caring for an active toddler.  After raising her three children, it was a renewed appreciation for the development of an infant into a preschooler.  Lisa's husband is also a retired teacher, who works part-time at Morrisson-Reeves Library.  They enjoy being outdoors on their mini-farm, raising bees, chickens, vegetables, and flowers.  They like to travel to visit their sons in South Carolina where their only grandchild lives, and their daughter in Indianapolis.  Their children are Trueblood alums!
Andrew Ervin (Assistant Teacher)
Andrew always had a passion for working with kids even back in his high school years. Andrew has helped with various kids' events at Christ United Church and has served at a summer lunch program through them during high school. He graduated a trimester early from Richmond High School in February 2015 to get his Tech Honors Diploma. More recently, he has completed and passed numerous early and elementary education classes at Ivy Tech Community College and wishes to keep pursuing his degree. He has worked in a preschool class at Kids Kingdom both as an Assistant Teacher and a Head Teacher for 2 years. While working at Kids Kingdom, he was able to connect with a lot of kids from his preschool class and the elementary kids he worked with in the afternoon and summer and hopes to do the same here at Trueblood.
Administrative Staff
Marcie Roberts (Head of School)
Marcie began her duties as School Coordinator for Richmond Friends School in 2004. She received her Bachelor's Degree in Elementary Education at the University of North Carolina-Chapel Hill. Her varied experiences since then include management positions within the hospitality industry as well as a small Internet start-up company. She administered the Bonner Service Learning Program at Earlham College. She is a trained facilitator of both high and low ropes courses and has led outdoor education courses for such institutions as Greensboro Day School in North Carolina, the University of Virginia's Outdoor Recreation Program, Southwest Field Studies and the New Zealand Semester Program at Earlham College. Marcie's family includes her husband, Jay, Associate Vice President for Academic Affairs and Director of the Earlham Center for Integrated Learning, and her daughters, Ellie and Arden. 
Steven Cleaver (School Coordinator)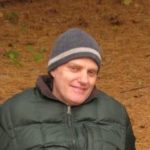 Steve earned a B.A. in Biology and K-12 Comprehensive Science Teaching Certificate from Rutgers University and an M. Div. from Earlham School of Religion. Prior to joining Richmond Friends School, he directed a residential environmental education center and summer camp for inner city children, served as Interim Religious Life Director at Earlham College and taught (and teaches) yoga at Earlham, Indiana University East and Beatree Yoga Studio. Steve is the author of the award winning novel, Saving Erasmus (Paraclete Press, 2007) which he wrote while in class with Tom Mullen at the Earlham School of Religion. A lifelong Quaker, Steve attends Clear Creek Meeting where he is a member of the Peace and Social Concerns Committee. He is also is founding member of the Richmond Writers Group. Steve loves a good laugh, the outdoors, and finishing a good book (either by reading it or writing it).
Patti Petersen (Development Coordinator)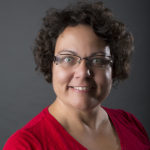 Patti Peterson joins RFS following eight years at Girls Inc. of Wayne County where she provided human resource support and was the Development Director. Patti's three children are alums of Richmond Friends School and Trueblood Preschool. She is excited to share the RFS's growth and the many new opportunities now available to a new generation of families.
Earlham & Indiana University East Students
Throughout the year we have the pleasure of College students offering their talents to our school. The students have a wide array of jobs, from  office duties to teaching and helping in the classrooms. The children at Richmond Friends School have always enjoyed interacting with these students.