Classroom Teachers
Classroom Teachers
Aaron Cooney (PreK-K Lead Teacher)
 Aaron graduated from Earlham College in 2012 with a Bachelor's Degree in Psychology.  During Aaron's time at Earlham he became deeply involved with Girls Inc. of Wayne County, and worked in their after school and summer programs for nearly five years. Aaron also took part in a brief internship with the Children's Crisis Treatment Center (CcTC) in Philadelphia during his studies at Earlham College.  In 2014 Aaron went back to school to earn his teaching certification in elementary education with Indiana Wesleyan.  After working under the mentorship of Marianne Cope, as the RFS PreK-K Assistant teacher for three years, Aaron is excited to be continuing his teaching career with the Richmond Friends School as he transitions into his new role as the lead teacher.
Gracie Rosson (PreK-K Assistant Teacher)
Gracie Rosson is a recent graduate from Earlham with German and Environmental Studies. While at Earlham, Gracie had the privilege of traveling and studying abroad in Germany, Austria, Denmark, France, and England. Before joining the Richmond Friends School, she interned at Cope Environmental Center and completed the Post-Baccalaureate Sustainability Fellowship at Earlham. She is very excited to join Aaron's classroom as the Assistant Teacher and to become more engaged with the local community. She has also provided childcare for a number of families in the Wayne County area since 2012. In her spare time, Gracie enjoys road trips, nail art and spending time with her cat, Popeli. 
Laura Sheets (First to Second Grades)
Laura Sheets (1st and 2nd Grade) Laura graduated from Bates College with a Bachelor's Degree in psychology, and from California State
University Long Beach with a Master's Degree in Education: Curriculum Development and Instruction. She holds Indiana teaching licenses for grades preschool to 8th grade and special certification as a Language Development Specialist. She taught elementary school in California for eight years before moving to Indiana. Eager to return to the classroom after work in education administration, tutoring reading, and raising her family, Laura joined the RFS faculty in 2008. She takes special joy in helping students with reading, writing, and art. Her classroom has a focus on guiding students to find a balance between honoring their own uniqueness and becoming self-regulating members of their classroom.
 Jennifer Quijaño (Third to Fourth Grades)
Jennifer has a Bachelor's in Childhood Education (Science Specialization) from Brooklyn College, and is completing an MA in Divinity with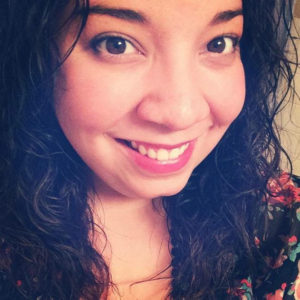 Bethany Theological Seminary in Richmond, IN. She has taught 4th grade at P.S. 114 Amersfort School of Social Awareness in Brooklyn, NY, and is currently a special needs teaching aide at Centerville-Abington Elementary School. Jennifer has experience as a youth leader for the Church of the Brethren and worked at the Brooklyn Public Library as a Technology Resource Specialist. She is bilingual and fluent in Spanish, and has a deep love of the arts.
John Sheets (Fifth to Sixth Grades)
J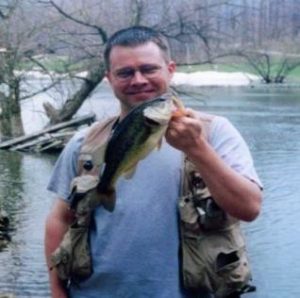 ohn graduated from Earlham College in 1992 with a Bachelor's Degree in Biology. Deciding his future would be best spent in education, he graduated from Indiana University East in 1997 with a BS Degree and Certification in elementary education. That same year he received the Student Teacher of the Year award while completing his student teaching at the multi-aged, portfolio based Discovery School, a choice school in the Richmond Public School System. He has been teaching at Richmond Friends School since the fall of 1997.
Kate Hogg (Seventh to Eighth Grades)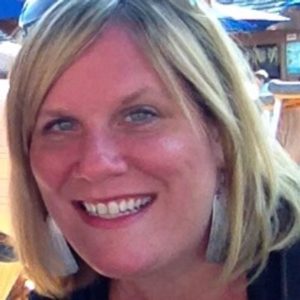 Kate received both her Bachelor of Arts in English (2000) and her teaching certificate (2001) from Indiana University East. She completed her M.Ed. at Earlham College (2012). Kate's fourteen years of teaching freshmen at Richmond High School allowed her the opportunity to form many close relationships with students and faculty. Inspired by renowned teacher Erin Gruwell and the Freedom Writers, Kate and her ninth grade team created lessons for the English classroom that centered around tolerance, self-reliance, and service to the community. A multi-genre writing project over tolerance secured Kate and her ninth grade team the honor of presenting at the NCTE conference in New York City. Last summer, Kate and a colleague journeyed with twelve students to Costa Rica to take part in adventure, personal growth, and humanitarian work. Kate strives to make community service and experiential learning the foundation of her classroom. When she is not researching lessons and brainstorming travel opportunities, Kate loves to spend time with friends and family, especially her two sons, Darius and Isaiah.
Nicole Blair (Seventh to Eighth Grades)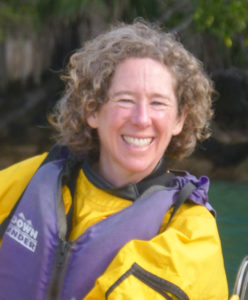 Nicole received her Bachelor's Degree in Aerospace Engineering from MIT and a Master's Degree in Biology from the University of Notre Dame. She has taught high school chemistry and biology in the Washington DC area as well as Ecological Biology at Earlham College. She has co-led, with her husband Peter, two Earlham College semester abroad programs in Environmental Studies in New Zealand. Nicole is an avid photographer, enjoys gardening (when it is not too hot!), and loves camping with her family and friends. Her two daughters, Savanna and Maggie, attend RFS.
Special Teachers
Jim McKinney (Music)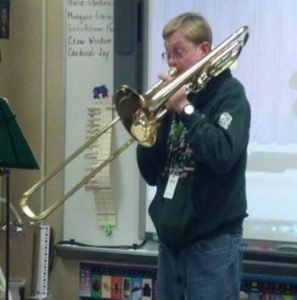 Jim holds a B. A. degree in Music from the University of Kentucky, a B. S. degree in Elementary Education from Indiana University East, and an M. M degree in Musicology from Indiana University. He has experience as a classroom teacher and an administrator in special education. During the 2013-14 school year, he volunteered as brass coach for instrumental students at Friends School. He has played the trombone for 25 years. He frequently performs throughout the Richmond area with both his jazz combo and brass quintet. He is a regular performer in the pit orchestras at Richmond Civic Theatre. Additionally, he gives private lessons to brass students, is a member of his church's praise band, and works as a brass technician during the summers at the Eaton, Ohio, High School band camp. He and his wife, Jodi, live in Richmond and have two children, Jared and Jill. He is thrilled to have the opportunity to teach music at Friends School!
Corrigan Eckert (Middle School Art Teacher, Lunch)
Corrigan graduated from Earlham this past May (2016) with a degree in studio art. She is interested in education and sees this position as a

great opportunity to encourage a love of art in young people. Her goals are to help students express themselves, and learn about the history and the many impacts of art on the world. Having graduated from the Richmond Friends School in 2012, she understands the goals and ideals of the school. She hopes to continue to foster the ideals of the Richmond Friends School, and to build confidence in each student through the arts.  She believes each student is special and gifted, and needs support and attention to succeed.
Rae Hunter (Spanish Teacher)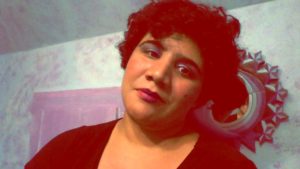 Rae Hunter is a valuable member of the Richmond Friends community. She has taught Middle School, been a substitute, created an All School Theater, and stepped in seamlessly last year when we needed someone to teach Spanish starting in January. She has worked with Quaker Youth and been involved with the Richmond Shakespeare Festival.
Extended Care/Lunch
Kay Maurer (Lunch and Extended Care Provider)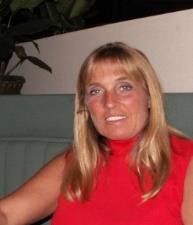 Kay has been with Richmond Friends School since 1987 which makes her a beloved figure for students and families, both present and past. She does morning care, lunch, and after care. Kay worked in the dental field and did bookkeeping before joining Richmond Friends School. She and her husband Jeff live next door to the school and have three children and three dogs of wide-ranging sizes.
Ibrahim Diarra (Extended Care, Substitute, Trueblood)
Ibrahim Diarra is an Earlham College graduate from Mali.  He graduated from Earlham College this past May (2016) with a Bachelor's Degree in Comparative languages and linguistics. While at Earlham, he had the privilege to study abroad in Nicaragua. During his stay in Nicaragua he volunteered as a physical education teacher in an elementary school in his neighborhood.  He tutored some of his college peers in French and Spanish.
Trueblood Preschool
Roxanne Steele (Lead Teacher)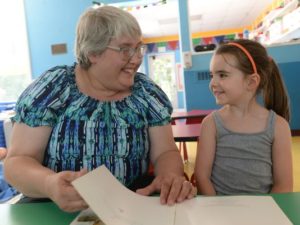 Roxanne Steele, Lead Teacher at Trueblood Preschool, is excited to take the lead during this first year of the Friends School and Trueblood merger.  Roxanne has been active with the Friends School in the past with her son, and has worked in preschool and special education settings in the past.  Bringing the philosophy of the whole child and multi-sensory learning together is a thrilling task to take on at Trueblood Preschool.  Roxanne lives in Richmond with her husband, Brian and their children Mariah, Sara and Nathan and memory of daughter Rachel.
Alisha Triana (Assistant Teacher)
Alisha Camp
bell Triana grew up in Houston, TX and received her BFA – Acting from The University of Texas – Austin. She lived and worked in and out of NYC as an actor for many years. Most recently, she earned her Early Childhood Certification from Miami Dade College in Miami, FL.  Alisha and her family (husband, Andrew and daughter, Anabella) just moved to Richmond. She is thrilled to begin teaching at Trueblood, where she is passionate about early childhood education. We are truly blessed as a family to be here and look forward to what God has in store!
Brianne Cody  (Assistant Teacher)
Brianne graduated from Earlham College in May 2016 with a degree in Environmental Science. While deepening her knowledge and appreciation of the natural world over these four years, she has been pursuing the realm of education to explore how she can share this passion with youth. With experience working at Farm and Wilderness summer camp and leading the environmental education summer programming at Hayes Arboretum, she has discovered a love for working and playing with kids. She has a strong belief in the inherent drive to learn in each child, and is looking forward to helping channel that love for learning in each student of Trueblood preschool. In her free time, she finds joy and fulfillment from fiber arts, yoga, and juggling.
Administrative Staff
Marcie Roberts (Head of School)
Marcie began her duties as School Coordinator for Richmond Friends School in 2004. She received her Bachelor's Degree in Elementary Education at the University of North Carolina-Chapel Hill. Her varied experiences since then include management positions within the hospitality industry as well as a small Internet start-up company. She administered the Bonner Service Learning Program at Earlham College. She is a trained facilitator of both high and low ropes courses and has led outdoor education courses for such institutions as Greensboro Day School in North Carolina, the University of Virginia's Outdoor Recreation Program, Southwest Field Studies and the New Zealand Semester Program at Earlham College. Marcie's family includes her husband, Jay, Associate Vice President for Academic Affairs and Director of the Earlham Center for Integrated Learning, and her daughters, Ellie and Arden. 
Steven Cleaver (School Coordinator)

Steve earned a B.A. in Biology and K-12 Comprehensive Science Teaching Certificate from Rutgers University and an M. Div. from Earlham School of Religion. Prior to joining Richmond Friends School, he directed a residential environmental education center and summer camp for inner city children, served as Interim Religious Life Director at Earlham College and taught (and teaches) yoga at Earlham, Indiana University East and Beatree Yoga Studio. Steve is the author of the award winning novel, Saving Erasmus (Paraclete Press, 2007) which he wrote while in class with Tom Mullen at the Earlham School of Religion. A lifelong Quaker, Steve attends Clear Creek Meeting where he is a member of the Peace and Social Concerns Committee. He is also is founding member of the Richmond Writers Group. Steve loves a good laugh, the outdoors, and finishing a good book (either by reading it or writing it).
Earlham & Indiana University East Students:

Throughout the year we have the pleasure of College students offering their talents to our school. The students have a wide array of jobs, from  office duties to teaching and helping in the classrooms. The children at Richmond Friends School have always enjoyed interacting with these students